Our Faculty and Staff, 2014-2015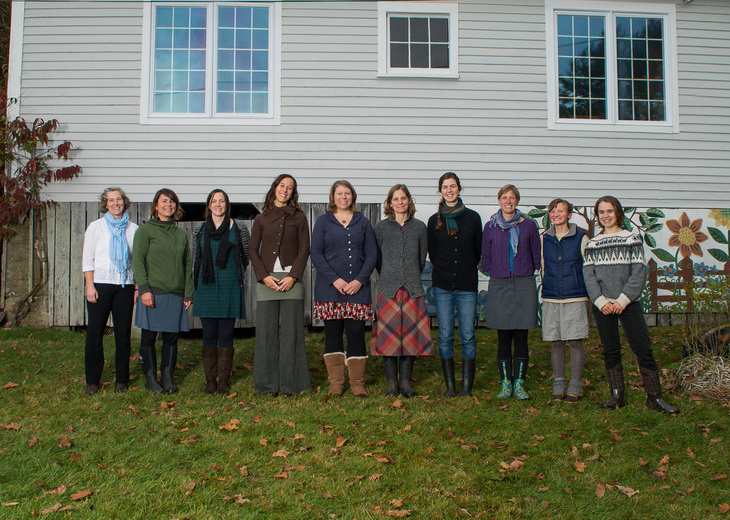 ©2014
Amy
Wilton Photography
Left to right: Annie Nixon, Kimberly Sampson, Jane Frost, Anne Stires, Kate Bathras, Kat Radune, Nimisha Bastedo, Marella Averill, Rachael Button, Lucy Atkins (Not pictured: Hannah Billian, Lissette Griffin)

Anne M. Stires, School Director & Lead Teacher, Seeds Classroom (Pre-K to K)
Born into a family of educators, Anne is a highly regarded and experienced teacher who specializes in place-based and ecological approaches. Over the last fifteen years she has worked for and cultivated relationships with a number of area schools and non-profit organizations—both public and private, preschool through eighth grade (through classroom teaching, teacher education, and natural science/place-based education consulting), forging a rich and diverse career in education. A graduate of Hamilton College and Antioch University Graduate School, Anne founded the Juniper Hill School in 2011 on her grandparent's riverfront property; the treasured family home where her father was raised. Having also grown up in mid-coast Maine, Anne and her family are now raising their own son nearby.

Annie Nixon, Music Instructor
Growing up in a musical family, Annie started playing guitar and violin at age 8. She studied the Suzuki violin method for many years and continued to play in orchestra through high school. As a certified Waldorf grades teacher, Annie taught academics, drama, violin and recorder to her middle school class at the Ashwood Waldorf School. She is inspired by her connection to mid-coast Maine and its beautiful ecosystems. As a Licensed USCG Captain, and through her work as an environmental educator at The Chewonki Foundation, she nourished her connection to the natural world. In the spring of 2014 Annie released her first album of children's music I Love My Dandelions. Her goal as a singer song writer is to connect children to nature through seasonal, acoustic music. www.annienixon.com

Jane Frost, Office Assistant
(more here soon!)

Hannah Billian, Teaching Apprentice, Seeds Class (Pre-K to K)

A native Vermonter, Hannah grew up exploring the green mountains of her home state. She has spent the last seven years since graduating high school studying agriculture, outdoor education, natural history, sustainable forestry, biology and most recently, early childhood education. Hannah has rock climbed in the White Mountains, mountain biked in Southern Appalachia, ice climbed and mountaineered in South America, backpacked in the Middle East, paddled white water and sea kayaks in New England, all the while learning about the plants, fungi, and animals that inhabit the land she journeys through. She is an avid adventurer and has spent the last few years sharing her love for the natural world with youngsters of all ages. She has studied at Kroka Expeditions in New Hampshire, as well as Warren Wilson College in Asheville, North Carolina, and taught for The Living Earth School, The Farm and Wilderness Foundation, and also the Chewonki Foundation. Hannah joined the Juniper Hill community this fall and has been falling more in love with mid-coast Maine with each day that passes. At Juniper Hill she works as the Seeds Teaching Apprentice, the Extended Care Teacher, and as the supporting teacher for the Nature Immersion Program.

Kat Radune, Lead Teacher, Sprouts Classroom (Grades 3-4)
Kat has worked with students from pre-school to high school age, in a variety of traditional and non-traditional educational settings, including public and private schools, nonprofit organizations, and camps. Kat infuses place-based and farm-based educational approaches to every teaching situation, and throughout all core subject areas. She is a graduate of Hampshire College and Antioch New England University, with her Master's Degree in Elementary Education. When Kat isn't teaching, she can be found cooking gluten-free food, riding horses, herding sheep, gardening, and writing poetry. Kat lives nearby with her husband, Nick, and her daughters, Ada and Maeve.

Kate Bathras
, Administrative Manager
Kate and her family moved to Alna (from Portland) in January 2013. She grew up in Maine and was fortunate to spend much time in the woods and by the sea as a child. After graduating from South Portland High School, she attended Bowdoin College in Brunswick and traveled extensively for while, but eventually returned to the area and worked at Bowdoin for a few years, in various roles in the Events Office and Student Affairs. She left to become a stay-at-home mom when she had her first child in 2009, but spent some time renovating, opening and running a small grocery store with her husband Tim and his family. In 2012, she experienced some nature-based education of her own in the form of a Permaculture Design Course, which deepened her belief in the importance of helping children foster an understanding of the natural world.

Kimberly Sampson, Lead Teacher, Seeds Classroom (Pre-K to K)
Kimberly grew up in rural New York's Hudson valley in the shadow of the Hawthorn Valley Waldorf School. This coupled with Kimberly's love of children inspired her lifelong interest in early childhood teaching and mentoring, and specifically her interest in simplicity parenting. She has lived on the Maine coast for 12 years and deep roots in her community. She has organized several small community organizations, including a women's community garden, a cooperative nursery school and has nannied and run her own informal home-based nursery school for the better part of the last decade. Kimberly lives in a small forested corner of Damariscotta, where she raises and nurtures her two girls, her partner's two children, as well as chickens ducks and goats.

Lissette Griffin, Spanish Instructor
(more here soon!)
Lucy Atkins, Assistant Teacher, Seeds Classroom
(Pre-K to K)
Originally from western Massachusetts, Lucy fell in love with Maine during her time at College of the Atlantic (COA) in Bar Harbor. Here, she explored the natural world and education from as many angles as possible under COA's self-directed, interdisciplinary program in human ecology. She has been working with children in the outdoors in a variety of settings--from adventure education camps and nature camps to school year programs. She has worked for COA's Summer Field Studies program, interned at the Chewonki Foundation's Outdoor Classroom for Schools, and led a high school conservation crew at Rachel Carson National Wildlife Refuge. Most recently, she was the Teaching Apprentice at Juniper Hill in the Seeds Classroom where she discovered her interest in early childhood education. Lucy loves all things natural history, particularly amphibians, reptiles, fungi, and alpine plants. Her greatest pleasure is learning new things about the world around her and sharing that learning with others. Lucy lives in a small hexagonal house in Whitefield with a big garden and plenty of woods.
Marella Averill
, Lead Teacher, Roots Classroom (Grades 1-2)
Marella Averill has worked in education in a variety of capacities for nearly twenty years, from her own home as a childcare provider, as a teacher in public schools, as an early intervention specialist, and even as a Peace Corps volunteer. She studied at Dickinson College, and then received her Masters in Education from Simmons College. Marella has lived in Hallowell, Maine for the past thirteen years, with her husband and three children.
Rachael Button
, Assistant Teacher, Roots Classroom (Grades 1-2)
Rachael Button is thrilled to be joining the Juniper Hill staff as a supporting teacher in the Roots and Sprouts classroom. She recently moved to Midcoast Maine from Holden Village–a remote community in the North Cascades of Washington–where she worked as an assistant teacher at the village's two-room public school teaching elementary and middle school science, middle school language arts and social studies, high school environmental literature, and 1st through 12th grade physical education.
Her interest in place-based education and connecting classrooms and communities partially stem from her experiences as a student and an instructor at Iowa State University where she received her Master of Fine Arts in Creative Writing and Environment in a graduate program which not only emphasized the craft of writing but also field work and environmental engagement. Rachael's love of research, learning, and cultivating "a sense of place" drives her as a teacher, a writer, and a naturalist. In her free time you can find her hiking, reading, writing, camping, climbing, conversing, and exploring the woods, wetlands, seashores, and general stores of her new home.
---