A Profile of Juniper Hill -- The Place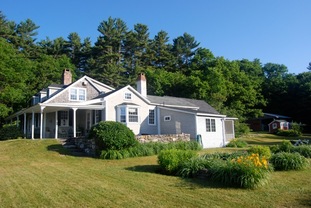 Juniper Hill School for Place-Based Education is located in a place deeply meaningful to me. Juniper Hill—the 1761 house, the outbuildings, the gardens, and the 42 acres of fields, woods, marshes, and river frontage--belonged to my grandmother, Jane Keyes, for 45 years. My father and his two sisters spent part of their childhood there. My father has countless stories of growing up at Juniper Hill—among them, rising in the middle of the night to go exploring outdoors, sleeping in his unheated bedroom throughout the winter, and canoeing the Sheepscot River.
After my grandmother passed away in 2003, my parents, Kinne and Susan Stires, acquired the property in 2004. Mima, as I called my grandmother, was a true matriarch of the family—admired and adored for her warmth and presence. We celebrated nearly every holiday, complete with Easter egg hunts, beautiful food, and homemade Christmas presents, at Juniper Hill. Throughout middle childhood, my cousins, my sister, and I made forts in the woods and fields, and mastered climbing high in the apple trees. When I worked at The Chewonki Foundation with wildlife, I had the opportunity to release a rehabilitated Barred owl at Juniper Hill with Mima by my side. She loved birds, and in particular, owls. When my former husband, Jon, and I were first together, we canoed the Sheepscot River down from Head Tide and climbed the hill at Juniper to visit my grandmother. We celebrated our wedding there in 2001, and, later, our son's 1st and 2nd birthdays.
Juniper Hill is a place of refuge, of beauty, of celebration, and of family. Children readily identify the landscape with exploration and connection, as well as a magical world unto itself. A 4 year-old leaving Juniper Hill after one of the first weeks of the nature immersion program, sighed a long sigh from the back seat, and whispered to herself, "And now, we leave this world…and go back to the other one."
--Anne Stires
P.S.
View
our slideshow
to get a closer look at our buildings and grounds.
---